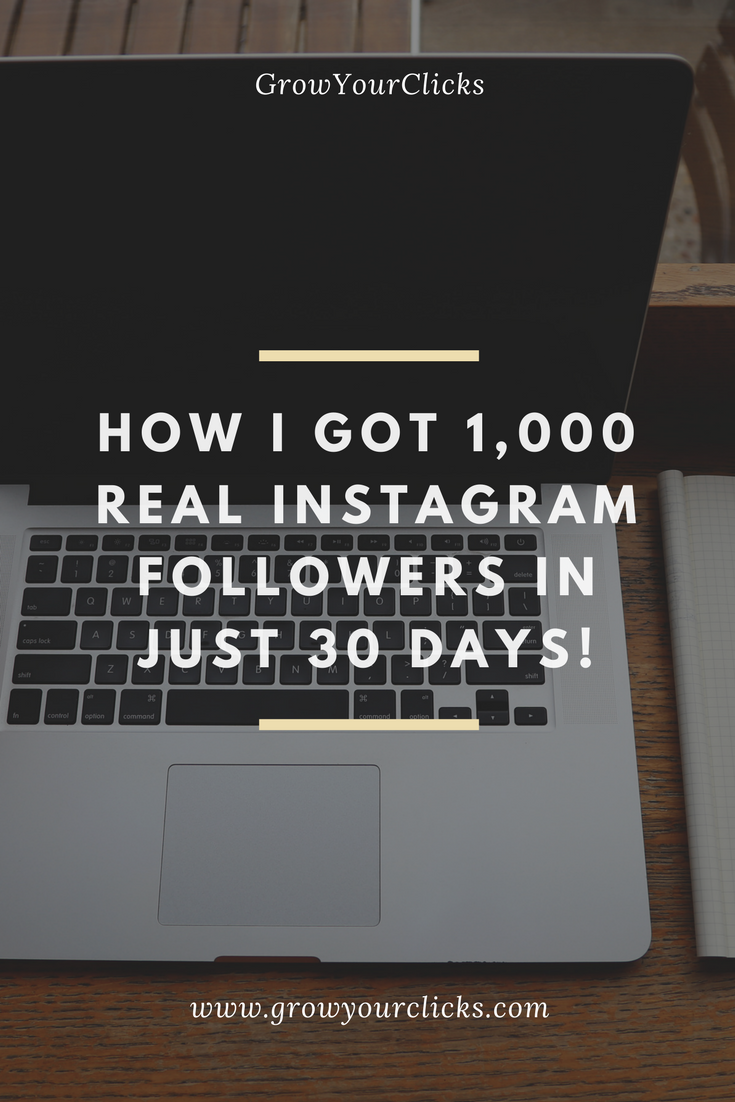 How to Get Real Instagram Followers
Doing everything that you can to build your Instagram following, but it's just not working?

I used to feel like that.

Let me show you exactly how I grew one of my Instagram account followers to 1,000 in just 30 days!

When I first decided to start this blog, I wondered where in the world I was going to find my marketing tribe. Where else were marketers hanging hanging out besides their own living rooms? And then one day it dawned on me…Instagram! The problem was when I started I had 50 Instagram followers and my blog was only a couple of weeks old…I was embarrassed.

So I took to the internet and did as much research as possible about how to grow an Instagram following..and then I just kinda winged it. The results turned out better than I expected! I got 1,000 real organic followers in just 30 days!
Imitation is the sincerest form of flattery

Head over to some of your competitors Instagram accounts and pay attention to what types of photos they are sharing and which photos receive the most comments & likes. You can use this information not only to determine what type of content you will share, but also how you will be able to differentiate yourself from your competitors.
Determine your Instagram Theme
If you look at some of the most successful Instagram accounts, you will notice that they have a theme of photos and a color scheme. For example, my target market on Instagram is
Marketers
. I tend to share work station photos, funny & inspirational quotes, my morning cup of coffee, interesting products I find & lastly pictures of myself.
Beyond what type of photos you decide to share, you should also consider a color scheme. Now I know that sounds crazy, but I once heard the advice of "Keep candid and random shots for SnapChat, Instagram is the place for a cohesive collection of images" and I couldn't agree more with that advice. The more I study successful Instagram accounts the more I see that they have cohesive themes & color schemes. My color scheme for Naptime Nation is lots of White & girly colors like pinks, turquoises & yellow. It all depends on what your target market likes and is attracted to.
Start your Instagram account and upload 6-10 images.
Before you follow anyone on Instagram. You'll want to upload a handful of photos. It's okay to do this now, because you have zero followers. This will be the only time that I would ever recommend uploading that many pictures at once. But the truth is you want to appear as legit. There are so many spammer accounts on Instagram, that users have gotten suspicious of accounts that don't have many pictures.
Post 3-5 times per day
As you are building up a following you will want to post several times throughout day to stay relevant and in peoples minds. Do NOT post 3-5 right in a row, you run the risk of annoying people! Once you have followers you can take this a step further and se to determine when the best time to post on Instagram. This tool takes a look at your followers and lets you know the prime times for you to post photos.
Want even more Instagram goodness? Click here to check out my awesome growth marketing course.

I used around 5-7 hashtags on each image and I tried to use hashtags that people were already searching & using; #marketing #socialmedia #hustle #growthhacking & #entrepreneur were some of the hashtags that my target demographic was using. Although it can be tempting to use funny or ironic hashtags, I'd recommend sticking with ones that people are searching for.
Follow Anyone That Follows You
Now this rule is one that you must follow! In order to get the love, you must GIVE the love. That means, if someone follows or likes one of your photos, check out their account and if they are legit, follow them. Then go a step beyond and like a few of those photos to show that you noticed them.
As I mentioned above, Instagram is a two way street, you've got to give to receive. So, each time you post a photo & someone likes it. Repay the favor and like one of their images. If you aren't following them yet, go ahead and give them a follow. This is a great way to show your Instagram followers that you are engaged and enthusiastic about what they are sharing.
Follow your Competitor's Followers
Now here is a strategy that I employed later in my 30 days, and if I had done it sooner, I'm positive I would've gotten to 1,000 in less than that. Whoever your competitor is in your niche/ industry a really simple way to grow your Instagram following is to follow the accounts that are following them. As long as your account is relevant you should yield a 30-40% follow back rate.
Engage with active users.
If you really want to make sure your only following the active, engaged users then I have a solid tactic. Similar to above, head over to your competitors Instagram account and have a look at who's liking/ commenting on their posts. These are the people you WANT to follow as they are actively engaging with their content. As long as your posting similar and engaging content you will be sure to receive a follow and maybe a like or two :)